At wcoding, we understand that switching careers into tech is definitely not an easy thing, and that's why we are here to help. For students who completed our 12-week or 30-week Fullstack bootcamps, we provide an additional 4-week career support to help them navigate the industry, optimize the career search journey and maximize the chances of getting hired.
Personal Career Strategy Consultation
Our students come from different backgrounds. Some have English teaching experiences or speak different languages fluently, while some have years of working or research experience in diverse fields. Our approach is to guide each student to find the best strategy to land their first job in IT and start building a career where they can place their skills in the right company and right position. 
Normally, we start with a few 1:1 meetings to know your personality, career interests, and industry preferences. Based on your situation, we can provide resources and tips to help you meet professional goals and land your first tech job as soon as possible.
Resume Review
A good resume will require at least 2~4 times of editing. Our HR consultants will check your grammar, structure, and contents based on their years of experience in tech consulting, HR and business operation. So you can get the insight and know-how to write an appealing resume to attract your future employers.
Job Search and Match
When your resume is ready, we can start applying for some potential hiring companies! Our employment partners include domestic headhunting companies, job platforms for IT specialists, international startups and SMEs. You will also work with your career consultant in the job searching and application process. When internship opportunities and developer positions from our network emerge, you will be the first to know and have priority to get interview chances.
Read more: How to get non-teaching jobs in Korea?
Portfolio Building
To become a web developer, it's better to have a portfolio to showcase your potential employers and clients your tech skills and achievements. Other than your tech degree and bootcamp certificates, a portfolio of your past development works is the best way to demonstrate your programming abilities.
A good portfolio should include:
1. A short paragraph to express yourself, your personality and motivation
2. Projects that show relevant skills and experiences related to the position you are applying
3. Professional social network profiles such as LinkedIn, Github and Stack Overflow that can speak for your specialities and coding skills.
Although providing a portfolio is not a requirement for most of the development job applications, it is never bad to let your employer know more about you and your skills. Nevertheless, to organize your works in a portfolio is always better than a few lines of bullet points on a resume.
Mock Interviews and Technical Support
wcoding will also provide different resources such as interview tips and negotiation strategies as you go through the job application process. If you need our assistance on coding tests and technical interviews preparation, we have experienced developers and specialists to help you practice and get ready!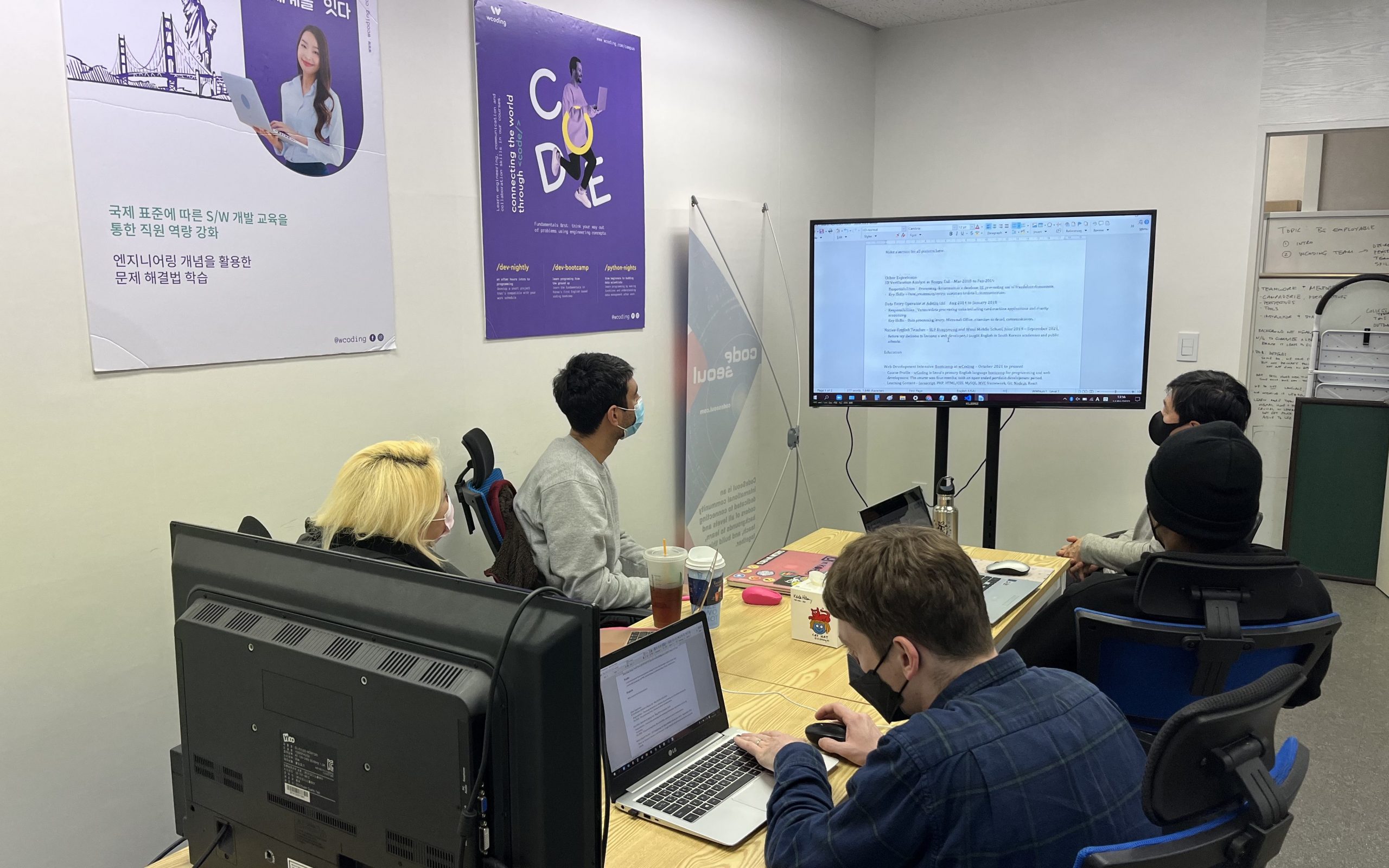 Continuous Support After the Graduation
The greatest advantage of learning at wcoding is to really put yourself in the real atmosphere of working at a tech company. At wcoding, you can get chances to meet real clients and work as a team to accomplish a task assigned by our partner companies.
After the bootcamp, you can have an individual work space in wcoding, and receive direct guidance from our developers on either personal or group projects for maximum 4 weeks. Also, as an alumni, you get to connect with 300+ alumni from coding networks that are now working in different fields and leaders in various organizations both in and out of Korea.
We understand that your next step after the bootcamp isn't always your final destination. So, always feel free to utilize our network, resources, and events to maintain your competitiveness even after your graduation from wcoding!